!!! WILDERNESS 1480 CE HAS BEEN LAUNCHED !!!
On thursday the 21st of may we launched our latest 1480 at Royal Cape Yacht Club in Cape Town. Sea trials will begin soon. Further details and pictures/videos can be found at the gallery option.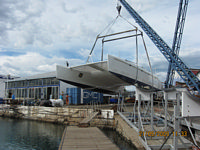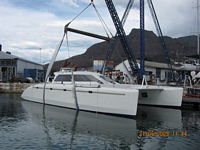 For further details please contact Ralf Pardemann - phone: +27 021 073 09 05 or email: ralf@bluewater-marine.net.
---
Bluewater Marine is a young and energetic business concentrating on building Schionning designed sailing cats, in particular the Wilderness 1480.
The founder of Bluewater Marine is Ralf Pardemann. He was born and raised near Hamburg, Germany then immigrated to South Africa to realise his dream of building luxury sailing boats.
Bluewater Marine is using local experts as well as german master boat builders to custom build to the highest standards.
We are in the process of aquiring CE certification for building the Schionning Wilderness 1480.